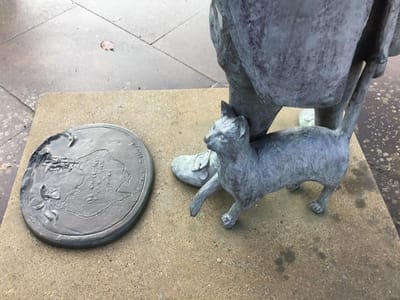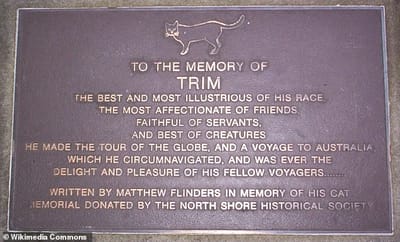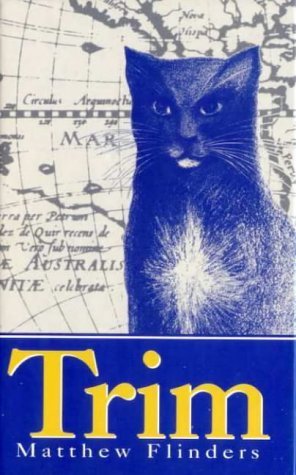 One companion of Matthew for several years of his travels was TRIM - the black and white cat who has become almost as famous as the Explorer himself.
Trim has 6 statues - 4 in Australia and 2 in Britain.
Trim has had a number of stories and publicatons written about him - obviously allowing for some 'story-telling' licence relating his story along those years until he disappeared in Mauritius whilst Matthew was detained there.
These include -

- Trim: Being the True Story of a Brave Seafaring Cat by Matthew Flinders

- Matthew Flinders' Cat by Bryce Courtenay

- Trim, The Cartographer's Cat - The Ship's Cat who helped Flinders Map Australia - by Gillian Dooley

- A Cat Called Trim by Corinne Fenton ( a Children's Book )

The picture shown is Trim at the feet of Matthew's statue in the Market Place in Donington

"To the memory of Trim: 'The best and most illustrious of his race, the most affectionate of friends, faithful of servants, and best of creatures' says a State Library of NSW plaque"

TRIM'S VOYAGES WITH MATTHEW FLINDERS
1797: Trim is born on board HMS Reliance in the Indian Ocean between Cape Town and Botany Bay. Flinders is Master's Mate.
1798: Flinders takes command of HMS Norfolk and circumnavigates Van Diemen's Land (Tasmania) with George Bass. Trim remains on board Reliance.
1799: Flinders and Trim sail north on Norfolk to what is now south-east Queensland.
1800: Flinders and Trim sail to England on Reliance via Cape Horn and St Helena.
1801: Flinders and Trim sail to what is now Western Australia on HMS Investigator via Madeira and Cape Town.
1802-03: Flinders and Trim survey the southern coast of Australia, arriving in Sydney in May. Two months later they head north on Investigator and circumnavigate the continent.
1803: Flinders and Trim head to England on HMS Porpoise but are wrecked on the Great Barrier Reef. Flinders sails back to Sydney on Porpoise's cutter Hope while Trim stays on Wreck Reef. Flinders and Trim are reunited and sail for England on HMS Cumberland but are captured by the French in Mauritius.